Posted on Sat 17th Dec 2011, 10:30am
This is a guest post by Fuel Poverty Action
As UK Uncut are quite rightly highlighting this weekend, the government's cuts are making the cold bite even harder this winter. Welfare cuts and reductions to the winter fuel allowance in the context of £25bn in corporate tax avoidance each year demonstrate the
coalition's commitment to private profit above peoples' right to a warm home
. These cuts will undoubtedly worsen the situation of the
1 in 4 British households
that suffer from fuel poverty, made up largely of the most vulnerable people including the elderly, babies, students and the disabled.
But fuel poverty is not just a cuts issue, nor is the government's role in creating fuel poverty limited solely to its austerity measures. At the moment, six energy companies - EDF, EON, Centrica (British Gas), Scottish Power, Scottish and Southern and NPower - currently have a monopoly over how the UK's energy is sourced, produced and priced. Because the price of fossil fuels has risen and these companies refuse to get off the fossil fuel bandwagon, each of the 'big six' has hiked prices (
by around 15 per cent every year for the past few years
) in order to ensure their own bottom-line. This has meant
record profits for them and cold homes for us
. The government is refusing to get tough on the energy companies, which is hardly surprising given that
thousands of pounds are paid out every year
by the big six to MPs and several big six shareholders and employees sit in the House of Lords.
As well as this, the government is failing to take effective action to rectify the shameful state of insulation and housing in this country. Its
'green deal'
, which will see private companies retrofitting homes, is set to freeze out low-income households due to the high interest rates on instalments that will be added to their energy bills. The green deal still allows the energy companies to cash in whilst ordinary people freeze.
Millions of people in the UK are suffering – and almost
three thousand people each year are dying
– as a direct result of fuel poverty. Ultimately, this is because of an energy system that is locked into fossil fuel dependence despite rising prices, and which functions with the primary purpose of securing private profit. Our market-based energy system and its addiction to fossil fuels is also
costing hundreds of thousands of lives via climate change
. Whilst people in the UK are being left to freeze, communities in the global south are being subjected to natural disasters and enforced migration as many small island countries are literally disappearing underwater because of the damage done by the profit-driven pursuit of fossil fuels to our climate. So, although we must challenge the cuts agenda that will leave more people than ever with a choice between heating and eating this winter, we must also challenge the market-based fossil fuel driven energy system that is at the root of both fuel poverty and the climate crisis. Further, we have to demand alternatives that work to meet our needs for both warm homes and a safe climate. This means decent quality housing and proper insulation as a universally secured right. This means getting off fossil fuels and embracing real renewables. And this means ending the energy companies' monopoly and moving towards a democratically controlled energy system that functions to meet our needs, not for corporate greed.
In order to provide a platform for people to make these demands, to challenge government inaction and the power of the big six and to start discussing alternative visions for a just and sustainable energy system, Fuel Poverty Action are holding a national weekend of
'Winter Warm-ups'
on Friday 27th January to Monday 30th January. On this weekend, we are calling for shivering people across the country to come out of their cold homes and warm up together inside the toasty buildings that represent the corporate and political forces driving fuel poverty. This could include anywhere from big six offices and cultural and sporting venues sponsored by the energy companies, to government buildings, council offices and housing associations. Wherever we are, we'll be sure to be heating things up.
After
Freezing-in
in December, it will certainly be time to
Warm-up
in January.
Find us
here
, follow us on Twitter @FuelPovAction to find out about where people will be warming-up near you, or email fuelpovertyaction@gmail.com to get involved.
Fuel Poverty Action are a campaign group of the newly formed Climate Justice Collective. This is a new climate action group that has formed out of the recently disbanded Climate Camp network. Fuel Poverty Action aim to support those in fuel poverty, to expose the collusion of the big six and the government in leaving people in the cold, to make the links between the causes and solutions of fuel poverty and the climate crisis, and to promote alternative energy systems to fossil fuel driven corporate monopoly.
Posted on Thu 15th Dec 2011, 10:24pm
UK UNCUT TO SHUT DOWN HIGH STREET TAX DODGERS THIS SATURDAY 17th DECEMBER
For immediate release
Tel 07415063231
Email ukuncut@gmail.com
UK Uncut, the anti-austerity direct action group [1], will shut down scores of high street stores of tax dodging companies across the country this Saturday 17th December, with Vodafone at the top of its list of targets.
Thousands of supporters voted in a Facebook poll [2] to decide which 'tax-avoiding Scrooge or big-banking Grinch' should be 'crowned UK Uncut's Christmas Turkey', the headline target for the day [3]. After a tense run-off, Vodafone pipped Sir Philip Green's Arcadia empire to the 'prize' of bearing the brunt of activists' ire.
People from Glasgow to Poole [4] will hit high street stores to demand the government collects the tax avoided by corporations and rich individuals instead of slashing public services. In London, protesters will stage a 'flash freeze-in' in the huge Topshop on Oxford Circus before donning UK Uncut-branded Santa suits and heading to Vodafone's flagship store on Oxford Street [5].
The nationwide day of action comes ahead of a report next week by parliament's Public Accounts Committee which is expected to be highly critical of the way HMRC struck deals with multinational corporations allowing them to avoid billions of pound in tax [6]. The report will pave the way for a National Audit Office investigation into ten large corporate tax deals, including Vodafone's let off of between £6-8billion [7].
UK Uncut supporter Daisy Cooper, 26, said: "Over the past 14 months, direct action by UK Uncut has put the issue of tax avoidance on to the political agenda with the head of HMRC forced to retire due to the dodgy deals he's struck. In the words of a Labour MP uttered just days ago: "Cosy tax deals between the government, the banks and other global corporations cannot go unchallenged.". The government's claim that 'there is no alternative' to the cuts has been exposed as a lie."
Rachel Stevens, 22, who will be taking part in the 'Freeze-In' in London, said: "Thanks to a combination of savage welfare cuts, reductions in the winter fuel allowance and outrageous profiteering from the big energy companies gone unchecked by the government, one county estimates its seasonal death rate could jump 20% as temperatures plummet. The government tell us they have no alternative to letting people freeze. It's a lie. Here's one alternative: collect the tax avoided by corporations and rich individuals, starting with Vodafone's £6bn."
Notes to editors:
[1] The day of action will see UK Uncut return to the high streets for the first time since May. Since that time, the group has closed Westminster Bridge in protest the government's NHS reforms, helped give birth to the Occupy movement, staged a creative intervention of a speech by HMRC boss Dave Hartnett with over 12,000 views on Youtube (Hartnett recently took unexpected 'retirement') and supported the public sector strikes of 30 June and 30 November. See
http://www.ukuncut.org.uk
[2]
http://www.facebook.com/questions/274984065882862/
[3]
http://www.ukuncut.org.uk/blog/christmas-special
[4]
http://www.ukuncut.org.uk/actions
[5] The 'freeze-in' will start at 1pm on the ground floor of Topshop's Oxford Circus store. See
http://www.ukuncut.org.uk/actions/772
for full details
[6]
http://www.thetimes.co.uk/tto/news/politics/article3258754.ece
[7] UK Uncut first accused Vodafone of avoiding a £6bn tax bill relating to the purchase of German engineering firm Mannesmann in October last year. At the time, the claim was dismissed by the company and HMRC as an 'urban myth'. In the last month, however, a parliamentary committee has said the deal 'may have been illegal' and could have been worth up to £8bn. The deal will now be investigated as part of the judge-led review of corporate tax deals struck by HMRC. See
-
http://www.thisismoney.co.uk/money/news/article-1704527/Taxman-let-Vodafone-off-6bn-bill.html
-
http://www.telegraph.co.uk/news/politics/8875360/Taxman-accused-of-letting-Vodafone-off-8-billion.html
-
http://www.guardian.co.uk/money/2011/dec/06/hmrc-tax-deal-vodafone
Posted on Wed 14th Dec 2011, 11:02pm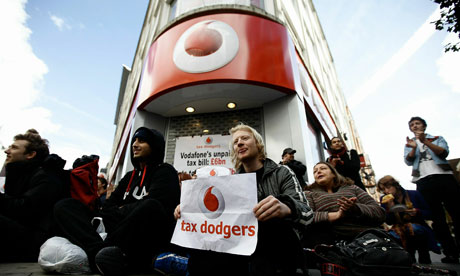 Over the last week and a half, thousands of people have voted in the polls to decide which high street target we should focus on shutting down for this Saturday's
Christmas Special
.
The
run-off between Vodafone and Sir Philip Green's Arcadia empire
closed at 11pm. UK Uncut's Christmas Turkey is...
VODAFONE!
Vodafone was the target of UK Uncut's
very first action
. At the time, HMRC and Vodafone dismissed the claims of a
£6bn tax dodge
as an '
urban myth
'.
Fourteen months later, thanks to direct action taken by people all across the country, the debate is not whether the £6bn tax dodge happened, but whether it was
actually as much as £8bn
, and whether it may have been not just bad practise, but
entirely illegal
.
This Saturday, we're going to hit the high streets to shut down Vodafone again. The message to the company: the
£6bn dividend you just paid to shareholders
should have gone to help save our public services, and we won't stand for it. The message to parliament's
Public Accounts Committee
, chaired by Margaret Hodge MP: we're grateful for the work you've done so far in
exposing the wrongdoing at HMRC
, now keep going and get us our £6bn back.
The message to the government: the cuts you are implementing are destroying our public services and precious welfare state. You say they are necessary, that there are no alternatives. It's a lie. Here's one alternative: collect the tax avoided by corporations and rich individuals, starting with Vodafone's £6bn.
Though direct action, we've forced the issue of tax dodging on to the political agenda and already
claimed the scalp
of HMRC boss Dave Hartnett. Now is the time to keep up the pressure, to shout to Vodafone and parliament: we want our money back. This Saturday, hit the high streets louder, angrier and more determined than ever, sure in the knowledge we are having a real effect.
Find a Christmas Special action near you on our
actions page
. See you on the high streets!