Posted on Tue 10th Jun 2014, 10:00am
Turn Vodafone into a #VodaHome!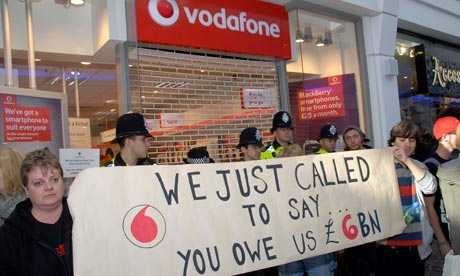 I have always been brought up to believe in good and honesty. I have both my parents to thank for that.
Here we are in 2014 and all I see is misery around us. Day after day all we hear is how bad things are. Just today this struck me as very sad It appears that "
3.5 million children will be in poverty by 2020
″. How can this be right when it's 2014 and we're supposed to be one of the richest Countries in the world?
We also have a housing crisis! What's that all about? We have so, so many people in need of housing. We also have the poorest being struck down with Bedroom Tax! Let's face it, if the Bedroom Tax was really all about 'freeing up' homes, then yes, the policy would have included pensioners. Not that I believe pensioners should be forced to give up their homes either mind. That should be forced upon NO one!!
Simple answer is, there are not enough new properties being built. I don't just mean 'affordable' properties. We need many more new builds in social housing. Let's face it a lot of these new 'affordable homes' are not even reachable by young newly weds or couples BOTH in employment! What is it that is going so wrong?
I may be disabled, I may be in receipt of Social Security but I still pay my dues in to the national pot. Nevermind all those that continually waffle on "oh you're on benefits, you don't pay tax" etc. Hmm, I've even seen a tweet from MP Brandon Lewis trying to pull that number!
WE DO!!!!!!! Yes, believe it or not, the poorest, sick, disabled and the unemployed all pay tax!
So, if we all pay tax, then what's the problem I hear you ask? How about this for starters...
This Saturday I will be out on the streets in association with UKUncut's Operation #VodaHome Why? – Let me tell you...Many companies, such as Vodafone DO NOT pay their share of
tax in to the national pot!
How can they get away with it is way beyond me. Let me put it simply...I am a Vodafone customer and I have a Vodafone contract mobile. Once a month I receive a bill. Now then, within that bill is a certain amount of V.A.T. (Value Added Tax) Yes tax. Now, if, I decided I didn't want to pay that tax, what do you think would happen? Yes, I would be cutt off. Contract terminated. The thing is, I have no Choice. There is nothing I can do in order not to pay that tax. As I said, I was brought up to be honest and good, I wouldn't want not to pay my share of tax. So, just
how come Vodafone can not pay any UK corporation tax for a third year in a row despite making a post-tax profit of £59.4bn?
Yes, that was fifty nine point four billion! Can you just imagine for one minute how much that could help the national treasury pot?
Housing, NHS, social security, child poverty, foodbanks, all of these things could be better addressed if the tax was paid
in to the pot!! Yes, I am sure you can… It doesn't take much to see that there is something drastically wrong here.
So, that is why I am going to be out on the streets Saturday June 14th. Vodahome is the place to be.
Find an event near you or maybe even set up your own
!!


This blog was first posted on Michelle's own page: http://michellekent1.wordpress.com/2014/06/09/vodafone-to-vodahome/
Posted on Tue 10th Jun 2014, 8:30am
This is a guest blog post by Danny Chivers, who is part of both the Reclaim Shakespeare Company and UK Uncut
Fighting the cuts and corporate power: a double-whammy weekend of action coming up!


There are two exciting direct action callouts for the weekend of June 14th/15th:
a day of UK Uncut actions
targeting Vodafone's tax-dodging on Saturday 14th, and a "Viking flash-horde" at the British Museum in protest at BP sponsorship on Sunday 15th, organised by theatrical activists
the Reclaim Shakespeare Company
.
These may seem like quite separate issues, but in fact they are deeply interlinked, and I'd recommend that anyone thinking of attending one should include the other as well and make a proper action-packed weekend of it.
Why? Well, beyond the initial fact that both offer the chance to do something inspiring and effective to shake off the post-EU-election blues, these two actions are tackling different parts of the same problem. They are linked by the Government's brutal cuts agenda, and also by the growing problem of unaccountable corporations.
The #VodaHome action
will highlight the cuts to social housing
that are forcing more people into poverty, temporary accommodation and homelessness, and link this to the billions of pounds that the Government allows the likes of Vodafone to avoid in tax. The British Museum action, meanwhile, is part of a
wider movement against fossil fuel sponsorship of the arts
. Funding arts and culture gives the likes of BP and Shell a cheap veneer of responsibility that helps to distract from their real, destructive activities; not just their drilling and spilling, but their
ferocious lobbying
to block clean energy projects all over the world, keeping us trapped on a fossil-fuelled path to climate meltdown.
While fossil fuel companies have been giving money to some of our cultural institutions for many years, until now their contribution has been relatively small. For example, BP provides
less than 1% of the annual income
of the Tate, the Royal Opera House and the British Museum (although you wouldn't know it from the huge amount of branding the company gets in return). Government cuts to public funding of galleries, theatres and museums mean that there is now a major risk that these institutions could drastically increase their reliance on corporate funding, locking them in as PR partners to dirty industries. Increases in fossil fuel sponsorship would also make it much harder to produce art that exposes these companies' true nature; many artists are
already afraid to speak out
against their sponsors for fear of losing their livelihoods.
It doesn't have to be like this. The weekend of June 14th and 15th gives us all a brilliant opportunity to challenge two different corporations who are benefiting from (and behind the scenes no doubt cheering on) the Government's strategy of letting the rich off their taxes while hammering everyone else. These two days of action will highlight some of the terrible consequences of the cuts (a lack of affordable housing with all the misery and tragedy that entails, cheap unearned PR for climate-trashing industries and the corporate capture of the arts) while also putting forward the solutions (tax justice leading to decent public funding for social housing, the arts and everything else we'd expect in a decent society). Plus we'll get to turn Vodafone stores into temporary housing and give BP a flashmob Viking funeral. How perfect a weekend is that?
To join the #Vodahome action, check UK Uncut's
actions page
to find an action near you, or see the
step-by-step guide on how you can organise one yourself
. To join the BP Vikings flash-horde, sign up to the
Facebook event
or send an email to info@bp-or-not-bp.org and you'll receive instructions!
Posted on Sat 7th Jun 2014, 6:00pm
This is a guest blog from Paula, a disability rights campaigner and DPAC activist.
Join Paula on June 14th to resist the Bedroom Tax and other government attacks on the right to a home.
On 1st April 2013, 670,000 people in the UK were informed that their housing benefit was going to be cut by £14 a week if you had a spare bedroom in your property or by £22 a week if you had more than one spare bedroom. The Government call this policy the "Spare room subsidy", we as campaigners call it the Bedroom Tax.
450,000 people affected by the Bedroom Tax are disabled people
, 60-70 per cent of households in the UK have a disabled person living in it. A year on from the introduction from the bedroom tax, and we are seeing that
9 out of 10 disabled people have cut back on eating to pay the bedroom tax, 4 out of 10 disabled people have cut back on mobility care support, and 37 per cent of people have had to cut back on medicines needed to treat their various illnesses and impairments to pay the bedroom tax to keep a roof over their head.
We are seeing councils up and down the country take into account a disabled person's Disability Living Allowance (DLA) when a claim for discretionary housing payment is applied (DHP) despite this benefit not being means tested. This benefit is to meet a disabled person's care and mobility needs. 3 out of 10 disabled people living in housing adapted to meet their needs have been denied DHPS' compared to non disabled people, a blatant case of discrimination by the councils themselves.
Disabled people need a spare room because of the equipment they may have to store for their condition, i.e., a wheelchair, or specialist machinery like dialysis equipment for example, or if a partner, may need a spare bedroom because the person with an impairment is sleeping in a hospital bed, unable to sleep with their partner, and their partner needing that spare bed in order for them to sleep so they can continue to care for their loved one at home.
This policy is causing great harm to many
, we have seen people like Stephanie Botteril take her own life as she worried how to pay the £20 a week to keep her home, money she simply did not have, people with mental health impairments sectioned when the bailiffs have made an attempt to enter their property as the claimant has been served with an eviction notice, and it is important to stress, that in the last 12 months over 15 per cent of claimants affected by the bedroom tax are facing eviction causing a great deal of distress and uncertainty for many.
It's important that we support the campaign to get the bedroom tax abolished, cap rents and build more social housing, housing is a human right, and should be available to all. Help us campaign against this draconian unjust policy, help stop the bedroom tax!


Join the #VodaHome actions on June 14th - tell Vodafone to pay their tax and the government to stop their cuts to housing. Find your local action here, or organise your own.