Posted on Thu 6th Oct 2011, 4:03pm
This is a guest post by comedian Nick Revell. You can follow him on Twitter @nickula.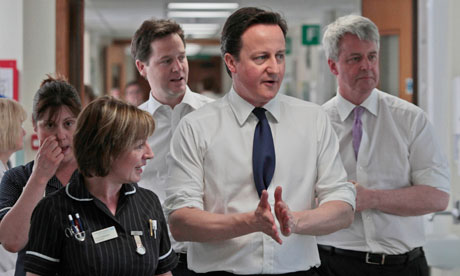 Government-speak: "NHS reforms."
Translation: "Dismantle an institution Britain can be truly proud of, so that in future our hospitals will always guarantee the highest standards of care and well-being for each and every shareholder."
Government-speak: "The majority of people who work within the NHS agree with our reforms."
Translation: "There is no limit to the lies we will tell to try and get away with this."
Government-speak: "We put the NHS reforms on hold to conduct a listening exercise."
Translation: "We delayed the cynical plans for NHS privatisation for a couple of months to try and pretend we give a shit."
Government-speak: "We are all in this economic crisis together".
Translation: "We are all in this together, but thanks to our private incomes, some of us are far less in it than others."
That's why I will be helping to
Block the Bridge, Block the Bill
on Sunday.
Posted on Thu 6th Oct 2011, 3:44pm
This is a message from Len McCluskey, General Secretary of Unite, Britain and Ireland's biggest trade union. See also the message of support from Mark Serwotka, General Secretary of PCS.
The NHS, built by our forebears, sits at the heart of our communities today.
This government has no right to take this beloved institution from the people of this country.
Their Health bill is unwanted. The changes are untested. They do nothing to put the patient first or deliver equal health improvements. What they will do is shatter the one institution which for decades has cared for the people of this nation regardless of income and hasten its fall into the arms of the privateers.
Time and again health professionals have warned that this bill will cause inequality and division. But the government refuses to listen. Little wonder then that people are asking what will it take to defend our NHS?
Peaceful protest by individuals may now be the only way to get this government to stop.
So Unite commends UK Uncut for challenging this bill. This government must not to be allowed to take from us what is ours. It is our National Health Service. We must not let them destroy it.
Len McCluskey
General Secretary
Unite
Join UK Uncut and members of Unite, PCS and other unions as we Block the Bridge, Block the Bill this Sunday.
Posted on Wed 5th Oct 2011, 5:48pm
This is a message from Mark Serwotka, General Secretary of PCS, one of the country's biggest trade unions. UK Uncut supported PCS and other unions on the June 30th strike with the Big Society Breakfast.
UK Uncut has described the threat to our NHS as an 'emergency' and it is absolutely right.
The government's Health and Social Care Bill represents the gravest threat to the NHS, one of our nation's finest achievements, since its foundation.
On behalf of PCS, I offer full support to UK Uncut and believe that, from those early sit- down protests in Top Shop and Vodafone to broader campaigns in defence of the NHS, its activists have been an inspiration in how they have shifted the debate about public spending and public services.
Peaceful protest and civil disobedience have a long and proud history in this country, and are a perfectly legitimate response to plans that no one voted for and no one wants.
This protest will send an important message of support to the brilliant doctors, nurses and other healthcare workers who work day in, day out to make our health service the envy of the world. And an equally important message of opposition to a Tory-led government trying to unpick all of this.
Activists from UK Uncut were there when civil servants, teachers and lecturers took strike action on 30 June, and we are there for them now as they seek to keep our NHS public.
Mark Serwotka
General Secretary
Public and Commercial Services Union
Join UK Uncut, members of PCS and other unions as we Block the Bridge, Block the Bill this Sunday.