Posted on Sat 8th Oct 2011, 10:41am
Posted on Sat 8th Oct 2011, 10:32am
"This Sunday's direct action demonstrates the depth of anger about the dismantling of our Health Service across the country. Campaign action like this organised by GMB and other unions, communities and groups like UK Uncut – will be the shape of things to come across the country unless the Coalition drops its plans."
— Rehana Azam, GMB National Officer
"When political parties go into an election promising not to cut the NHS, win and do the opposite then democracy has to take to the streets. Sometimes you have to out your body on the line to defend those too ill to defend themselves. UK Uncut are doing just that."
— Neal Lawson, Chair, Compass
"The NHS is a key part of the social fabric of Britain, and people across the country are rightly alarmed at government proposals to break it up. War on Want supports UK Uncut in its vital action to defend the NHS. We need an integrated public health system, fully funded from the public purse, if we are to secure the right to health for future generations."
— John Hilary, Executive Director, War on Want
Senior members of the Tax Justice Network will also be coming back from Paris to join us on the bridge
Posted on Thu 6th Oct 2011, 4:03pm
This is a guest post by comedian Nick Revell. You can follow him on Twitter @nickula.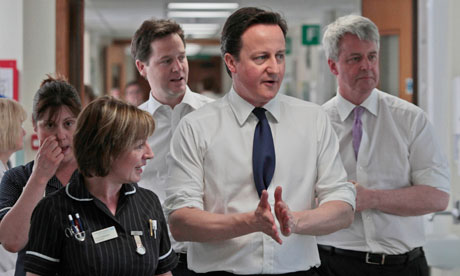 Government-speak: "NHS reforms."
Translation: "Dismantle an institution Britain can be truly proud of, so that in future our hospitals will always guarantee the highest standards of care and well-being for each and every shareholder."
Government-speak: "The majority of people who work within the NHS agree with our reforms."
Translation: "There is no limit to the lies we will tell to try and get away with this."
Government-speak: "We put the NHS reforms on hold to conduct a listening exercise."
Translation: "We delayed the cynical plans for NHS privatisation for a couple of months to try and pretend we give a shit."
Government-speak: "We are all in this economic crisis together".
Translation: "We are all in this together, but thanks to our private incomes, some of us are far less in it than others."
That's why I will be helping to
Block the Bridge, Block the Bill
on Sunday.