Posted on Mon 15th Oct 2012, 8:33pm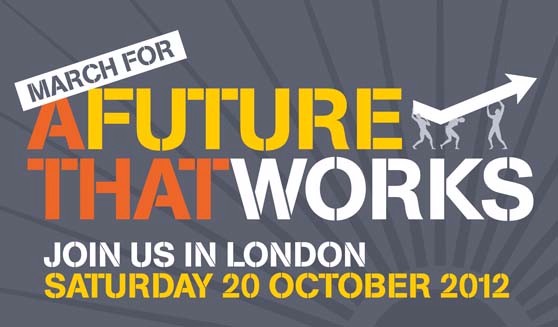 Join UK Uncut on the 'No cuts, no tax-dodging' bloc at the Trade Union Congress (TUC) march, Saturday 20th October in London!
Absolutely fed-up with how Cameron, Clegg, Osborne, Hunt and the rest of this cabinet of
millionaires
are wrecking our future?
Angry at how big business gets away with murder, whether it's avoiding
billions
in tax or getting massive public bailouts?
Ready to make some noise, meet new people and have a fun time with a few surprises on the way?
Then you and your friends should
join UK Uncut's
'No cuts, no tax-dodging' bloc on October 20th!
Stories continue to emerge of how big businesses such as
Facebook
,
Apple
,
Starbucks
and
Google
continue to avoid billions in tax at a time of unprecedented and unnecessary public spending cuts. We must keep the pressure up so that the government cracks down on tax avoidance and ends its disastrous austerity policies.
If you'd like to
join us
then meet us outside
St Paul's cathedral
at 11am before the march. We'll be hanging out with the
Climate Bloc
who have organised a short event including talks and performances.
We'll have flags and banners and will be handing out information about our exciting new national day of action taking place in December. We've got some seriously great plans brewing that are going to be revealed soon, so now is the time to start making new friends and allies to get ideas and inspiration!
If you haven't already, then sign up to follow us on
Twitter
and
Facebook
as we'll be making announcements on the day. There may even be one or two surprises along the way...
Remember to sign up for the
event
on Facebook too (...yes, even though they avoid tax!).
See you on the streets!
Posted on Fri 21st Sep 2012, 1:54pm
UK Uncut demand government reject Lord Fink's call for UK to become a tax haven and take urgent steps to prevent billions being lost through tax avoidance

FOR IMMEDIATE RELEASE

Press enquiries: UK Uncut – Tel: 07415063231 | Email: ukuncut@gmail.com

UK Uncut, the anti-cuts direct action group, today demanded that the government immediately reject Lord Fink's proposals for the UK to weaken its tax laws and turn the country into a tax haven.1

The anti-austerity group called on Chancellor George Osborne, who recently described tax avoidance as 'morally repugnant,' to outline how he will stop rich individuals and corporations from using tax havens and other abusive tax avoidance measures.2

The government's failure to properly crack down on tax avoidance is again in the spotlight as further revelations have emerged of how a super-wealthy elite continue to avoid billions in tax at a time of unprecedented and unnecessary public spending cuts.

An investigation by the Times this week found that more than 2,000 Britons in Monaco are costing the UK economy £1billion a year in lost tax revenue.3

UK Uncut spokesperson Anna Walker said "Tax avoidance costs the UK £25billion a year- we must get this money back so that we can invest it in our vital public services. If the government clawed back the tax money that is owed we wouldn't need the damaging and unfair cuts that are hurting ordinary people's lives. David Cameron and George Osborne have described tax avoidance as 'morally wrong' and 'morally repugnant'- it's high time they stopped rewarding tax dodgers and instead took immediate action to close tax havens and stop tax avoiders ripping off this country."

Notes for editors:

1. Lord Fink, who is a director of three firms which have subsidiaries or a parent company in the Cayman Islands, Luxembourg and Guernsey, said: "I don't see why the UK should not compete for jobs that at present are going to the Cayman Islands. I lobbied George Osborne when the Tories were in opposition. I have long felt that the British government loses jobs to tax havens by allowing the Revenue to have these rather archaic rules."

www.guardian.co.uk/business/2012/sep/20...

2. George Osborne, Budget statement March 2012, 'I regard tax evasion and – indeed – aggressive tax avoidance – as morally repugnant.'

www.hm-treasury.gov.uk/budget2012_state...

3. A report in the Times newspaper (20/09/12) outlined how 533 directors of UK companies have registered addresses in Monaco. Despite vetting by HMRC, the government has still seen fit to award several tax exiles with honours. These include the billionaire Sir Phillip Green- who avoided £285million in capital gains tax in 2005. UK Uncut activists have repeatedly targeted Green by occupying branches of his Arcadia fashion empire.

ukuncut.org.uk/targets/3
Posted on Sun 9th Sep 2012, 5:00pm
This is a guest post from Simon Hickman, recounting an incident of impromptu activism this August. A full version of the blog can be found here
On returning to the port of Skiathos after a €15 boat trip we were greeted by the £63 million Lionheart yacht owned by the tax dodging Sir Philip (billionaire) Green (owner of the Arcadia Group, including Topshop, Topman, Dorothy Perkins, Burton, Miss Selfridge and British Home Stores) dominating the quayside.
Most people had no idea who owned this large imposing vessel or who had actually paid for it.
Saira challenged him vocally about the £285 million tax dodge he'd pulled off and how it may have paid for the huge boat which now dominated the Skiathos quayside. Philip quickly slipped into the crowd and disappeared in to the Skiathos evening and anonymity.
In true activist style it was back to our room to prepare placards, a problem when you haven't come on holiday prepared for a demonstration. We commandeered two large posters and a kindly shopkeeper gave us temporary custody of a marker pen which we put to immediate use. Then it was off back down to the port of Skiathos with fresh rolled up placards, one proclaiming " Philip (Billionaire) Green £285 Million Tax Dodger" and the other "£63 Million Yacht. £285 Million Tax Thief = 20,000 NHS Nurses – 32,000 students. Pay Your Tax" returning the marker pen on the way.
As you would expect in such a holiday destination there was a multi-national crowd many of whom had no idea who Sir Philip (Billionaire) Green was. One thing they all seemed to understand was that these super rich people were abusing their power and position to fleece the normal hard working people.
Tina Green responded to our protest with the comment of "not this again" obviously not expecting to be confronted on holiday. As she boarded her luxurious yacht Sir Philip appeared and gave instructions to his crew to have us removed, quite difficult you would have thought on public land. Sir Philip then amazingly started to hurl abuse from the deck of the yacht. Instructions were given by him to the crew to "hose the morons down". Simon and Saira retaliated vocally with "Pay Your Tax", "Who Bought This Boat" and "You Should Be Ashamed".
One of his lackeys from a smaller yacht moored beside Lionheart came to argue his case, it seems that in his opinion if you employ people you don't really need to pay tax, but he was quickly dispatched by a female member of the crowd now gathered who responded with "if he's done nothing wrong what's the problem".
Unbeknown to us the Mayor of Skiathos had been summoned by Sir Philip to resolve the situation, the Mayor approached us and said "this isn't helping", I assume he meant it wasn't helping his pal Sir Philip. He asked us to leave the quayside as this was private property, so we moved our protest to the port perimeter.
As we walked off the quayside the Skiathos water taxi man was shouting 'you are heroes', maybe an exaggeration but we felt we were doing our bit. What we left behind could only be described as mayhem. A selection of Greek locals and holidaymakers entered in to a very heated debate with the Mayor. They demanded to know when the quayside had become private property and why two peaceful protesters were being treated in such a way for pointing out a matter which plagues the capitalist world.
We'd gone from a two person protest to a mass quayside argument with around fifty people looking on. We continued to engage passers-by in conversation about Sir Philip (Billionaire) Green the tax dodger, his £1.2 billion bonus and £63 million yacht and similar stories from around Europe and the world were recounted to us. Apart from the Mayor and his small yacht lackey we received support from holiday makers and locals alike.
The following day we went down to the port to see how Sir Philip was doing, there was no trace of Tina, Sir Philip or Lionheart. Not claiming to have chased him of the island as we weren't privy to his holiday itinerary, but it was another smile moment!
What did you do on your holidays?
In 2005 Philip Green awarded himself £1.2bn, the biggest paycheck in British corporate history. But this dividend payout was channelled through a network of offshore accounts, via tax havens in Jersey and eventually to Green's wife's Monaco bank account. The dodge saved Green, and cost the tax payer, close to £300m. This tax arrangement remains in place. Any time it takes his fancy, Green can pay himself huge sums of money without having to pay any tax.