Posted on Wed 14th Dec 2011, 11:02pm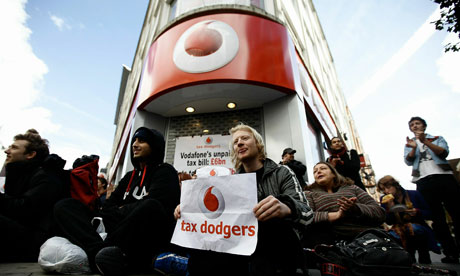 Over the last week and a half, thousands of people have voted in the polls to decide which high street target we should focus on shutting down for this Saturday's
Christmas Special
.
The
run-off between Vodafone and Sir Philip Green's Arcadia empire
closed at 11pm. UK Uncut's Christmas Turkey is...
VODAFONE!
Vodafone was the target of UK Uncut's
very first action
. At the time, HMRC and Vodafone dismissed the claims of a
£6bn tax dodge
as an '
urban myth
'.
Fourteen months later, thanks to direct action taken by people all across the country, the debate is not whether the £6bn tax dodge happened, but whether it was
actually as much as £8bn
, and whether it may have been not just bad practise, but
entirely illegal
.
This Saturday, we're going to hit the high streets to shut down Vodafone again. The message to the company: the
£6bn dividend you just paid to shareholders
should have gone to help save our public services, and we won't stand for it. The message to parliament's
Public Accounts Committee
, chaired by Margaret Hodge MP: we're grateful for the work you've done so far in
exposing the wrongdoing at HMRC
, now keep going and get us our £6bn back.
The message to the government: the cuts you are implementing are destroying our public services and precious welfare state. You say they are necessary, that there are no alternatives. It's a lie. Here's one alternative: collect the tax avoided by corporations and rich individuals, starting with Vodafone's £6bn.
Though direct action, we've forced the issue of tax dodging on to the political agenda and already
claimed the scalp
of HMRC boss Dave Hartnett. Now is the time to keep up the pressure, to shout to Vodafone and parliament: we want our money back. This Saturday, hit the high streets louder, angrier and more determined than ever, sure in the knowledge we are having a real effect.
Find a Christmas Special action near you on our
actions page
. See you on the high streets!
Posted on Wed 14th Dec 2011, 10:27am
This is a guest post from a doctor currently working in the NHS who will be taking part in UK Uncut's Christmas Special this Saturday. You can find another post by someone who's voting for Vodafone here
The NHS is facing the biggest financial squeeze in its history. Across the country, diagnostic tests are being delayed, operations are being postponed and access to many patented drugs are being tightened.
Meanwhile, Philip Green sails across turquoise waters on a yacht paid for by British people: the people who buy his clothes and support his brand, but to whom he does not feel he owes anything.
For us in the NHS, not a week passes when there is not a report about understaffed and under-equipped wards leading to inadequate care and patients being exposed to risks. Sometimes I wonder if Philip Green thinks about that when he looks at his bank balance.
Study budgets for doctors are being cut year on year and access to professional development resources has been withdrawn to save money. The future clinical leaders of the NHS are not receiving the training they need as there is no money to fund it.
It's not fair.
It's not fair that the Government is using the financial crisis to purposefully run the NHS into the ground. It's not fair that the Government are slowly strangling the NHS into submission as a means to introduce the private sector into the British healthcare. And it's not fair that a government advisor, knighted by the Queen, should use dodgy loopholes to avoid paying £285m he rightfully owes.
We are told "We are all in this together", we are told that we all have to face tough times as one. How contradictory it is, then, to see the likes of Phillip Green sitting on vast sums of money, using legal loopholes to avoid paying into the society that has put him where he is, and for the NHS that will be there if he needs it.
When hard-working public sector staff (many with high levels of student and personal debt) are working extra hours, paying more into their pensions, paying more tax and National Insurance, and facing a pay-freeze in real terms; to see a Government advisor like Phillip Green avoiding tax to the scale that he is, is frankly astonishing.
The £285 million that Green owes the taxpayer would not save the NHS on its own; but it certainly would make a huge difference. Debt-ridden hospitals currently cancelling operations would be out of the red; nurses could be employed to staff the understaffed wards and patients could be allowed access to drugs that they need.
I don't want to see Phillip Green make an altruistic, charitable donation to British society. I don't want him pay tax because he thinks it's right. I want him to pay because we, as a society, know it's right – because we refuse to live in a country doesn't care for the sick because it's not profitable. I want to live in a society where those that can afford it pay their way so that people are cared for when they most need it. It's what makes us civilized.
If there's one thing Philip Green has shown it's that he doesn't care much about civilization. Vote to target Topshop and Arcadia for UK Uncut's Christmas Special, and let's bring civil society to Philip Green's doorstep. Let's show him what civil society – the real Big Society, if you like – can do. Let's teach in Topshop, bail into Burtons, and set up an NHS in BHS. If Philip Green wants to trade in Britain, he has to pay in Britain. It's time we showed him that, like some of his recent clothing ventures, tax dodging has gone right out of fashion.
This Saturday 17th December, people all over the country will be shutting down high streets branches of either Vodafone or Sir Philip Green's Arcadia empire as part of UK Uncut's Christmas Special. Vote now in the run-off, read the callout then check the actions list for an action near you!
Posted on Wed 14th Dec 2011, 9:51am
This is a guest post from an anonymous activist taking part in this Saturday's UK Uncut action in central London and in the campaign against ATOS. You can find another post by someone who's voting for Arcadia here
When UK Uncut held their
first protest against Vodafone last year
, a banner stuck out in my mind more than any other: 'Cuts to welfare = £7bn, Vodafone tax dodge = £6bn.' For me, that banner summed up the protest more than any other. Why was this enormous company being permitted to dodge tax that could help the most vulnerable? Why would ministers insist on making these cuts when there is such an obvious way to avoid them?
Since that first protest a year ago, a lot has changed. Tax chief Dave Hartnett has stepped down; the National Audit Office suspects that the Vodafone deal might be illegal; the amount of tax Vodafone has dodged could be as much as £8bn, and the government is making even deeper welfare cuts than originally planned. This is a ridiculous and unnecessary situation, particularly when you realise what the Welfare Reform Bill actually means.
According to ministers, the bill will see 94% of claimants lose Employment and Support Allowance (ESA) after a year. ESA is a benefit to help those who are disabled but still able to work. This change could affect people who have very serious illnesses, from Parkinson's and cancer, to bowel disease, kidney failure and schizophrenia. The government is saying, if you don't recover after a year – tough. But Vodafone's tax dodge could pay for another year of ESA for more than 1.5million people.
We're entering a situation where those who need extra support are treated like suspects. Now, the private company ATOS will carry out gruelling tests on the disabled to see if they deserve disability benefits. Of all the people currently incapable of work, only 9% of them met the standards set by ATOS. Do we really think 91% of people were exaggerating their illnesses? Well, no – because 70% of ATOS decisions taken to appeal are overturned. But that doesn't matter to ATOS, because they get paid according to how many people they assess as fit.
So this is a scam, isn't it? It's a scam to give public services to profit-driven companies, while the tax that could pay for those services is siphoned away using dodgy backroom deals. It's a scam by a government which seems more interested in romancing tax-dodging corporations than caring for the people it is supposed to represent.
Now it looks as though elements of the Welfare Reform Bill may be challenged in the European Court of Human Rights. A report warned elements of the bill may amount to 'inhuman or degrading treatment.'
Vodafone, on the other hand, are dodging punishment in the same way they dodged tax. They've never had to explain why they chose not to pay tax that could support some of Britain's most vulnerable citizens.
But that's OK, because UK Uncut doesn't need a court: UK Uncut can challenge Vodafone in the streets. So when you're
casting your vote
for UK Uncut's Christmas special, pick Vodafone. Let them know you're onto them. Let them know you've got better ideas about how their tax could be spent. We don't have to live in a society which rewards the rich and punishes the most vulnerable. Things can be different. As Vodafone themselves put it so well, it's power to yoU(K Uncut).
This Saturday 17th December, people all over the country will be shutting down high streets branches of either Vodafone or Sir Philip Green's Arcadia empire as part of UK Uncut's Christmas Special. Vote now in the run-off, read the callout then check the actions list for an action near you!