Posted on Sat 14th Jul 2012, 6:00pm
If it's
'morally wrong'
for Jimmy Carr to use a tax haven, why is David Cameron setting one up in Stratford?
The Olympic site has become the world's newest temporary tax haven.
Instead of funding our vital public services, or refunding the British public for paying for the Olympics, billions of pounds of profits made by multinational companies with monopoly rights to exploit the Games will flow directly into the pockets of shareholders and CEOs.
The Games' 'partner organisations' including the likes of McDonald's and Visa have a temporary exemption from both UK Corporation Tax and UK Income Tax. According to a
report published by Ethical Consumer
, Olympics-related corporate partners and service providers are due to make £2.7bn in revenues this summer. They will be avoiding
over £600m
in tax. Forget Bolt and Ennis, the real winners at the Games are the corporate sponsors.
The Green MP Caroline Lucas: "LOCOG and the Olympics team have a serious case to answer in allowing the Park to become a temporary tax haven and so does the Government which has managed to find around £11 billion to fund the Games while at the same time imposing severe economic austerity on normal working people."
Tax campaigner Richard Murphy from the
Tax Justice Network
: " We're giving money away that we need to…preserve essential public services. It's a scandal that at the same time that David Cameron is criticising Jimmy Carr for using a tax haven, one has been created right in the heart of London."
Are you angry about this latest tax dodge? Do you want to take action?
On Monday 23 July, join the
Austerity Games
'to highlight the plight of young people in the shadow of these expensive and corporate Olympic Games'. Take part in the Race to the Bottom, Job Jump, Deficit Discus, Hardship Hurdles and more. More info
here
.
And on Saturday 28 July, the
Counter Olympics Network
has organised a
demonstration against the Corporate Olympics
. 'While cutting welfare, privatising the NHS, and bailing out the banks, the government plan to use the Games to trumpet the message that austerity Britain is content and open for business...We reject Cameron and Coe's corporate Games'. Join them at 12 noon at Mile End Park. More info
here
.
See you on the streets!
Posted on Mon 2nd Jul 2012, 7:18pm
UK Uncut Legal and Daniel Garvin have made a full fledged 24 minute documentary about the cuts, tax avoidance the court case against HMRC.
You can watch it here:
https://vimeo.com/44017057
Posted on Thu 21st Jun 2012, 1:51pm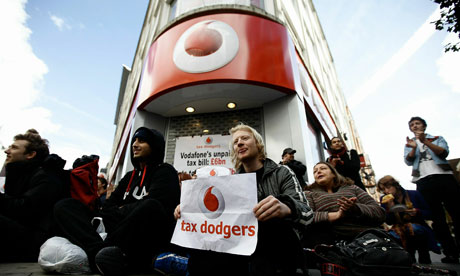 UK Uncut react to Jimmy Carr tax scandal and David Cameron's comments
Wealthy individuals buying tax avoidance schemes from high-flying accountants, in order to put as little money as possible into the public purse, are clearly acting immorally. However, this is not just a case of a few bad apples, this is a systemic problem because tax avoidance has become an industry in this country.
David Cameron has the power to act. The law must be changed to stop this unfair and unjust behaviour. We are losing £25 billion every year through tax avoidance- clamping down on tax cheats would provide a real and credible alternative to the government's massive public sector cuts.
Instead, the burden of debt reduction is falling on those least able to pay, while Cameron cuts the 50p tax rate, lowers corporation tax and changes complex CFC rules to legalise the use of offshore tax havens.
We've come a long way since our first protest in Vodafone's flagship store on Oxford Street in October 2010. Back then we stood with a range of other tax and anti-cuts campaigners, protest groups and unions demanding that Vodafone pay back the £6 billion in tax they avoided.
Our demands remain the same. The government must make Vodafone, Phillip Green, Amazon, Google, Barclays, Goldman Sachs- and all the other mega-rich individuals and corporations raking in massive profits- pay their fair share in tax. They must invest the money they raise in our public services, stop the cuts, and protect our jobs, pensions, welfare and other public sector goods and services. And they must do it now.